While I have to admit I didn't watch the Oscars (you can get the best parts on the internet--the star-studded selfie, all of the big winners, and John Travolta's Idina Menzel/Adele Dazeem flub were all availible almost instantaneously), I did watch the pre-Oscars red carpet. Unlike
the Grammy's
, the Oscar's was Hollywood's most stylish night. It was actually really hard picking all of my best dressed because there were so many beautiful people and dresses!
Anyways, I hope you like my list! I can't wait until next year...
Lupita Nyong'o in Prada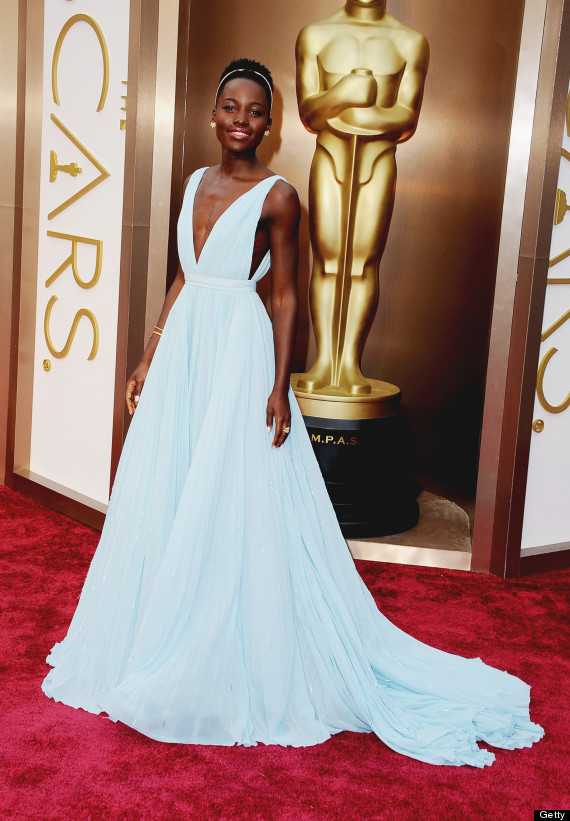 Not surprisingly, Lupita Nyong'o is at the top of my best dressed list. This custom Prada gown in a stunning blue that could work on only her is not only the flowing princess dress of all of our dreams (but more stylish) but apparently the color reminds Lupita of her native Kenya. There's not much I have to say about this dress other than it's perfection. Lupita, let's be best friends.
Charlize Theron in Dior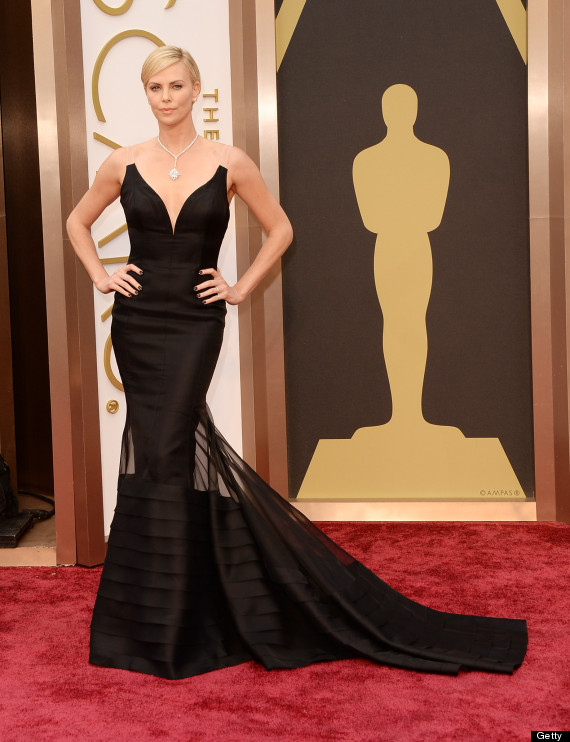 While everyone is working the red carpet in colorful, embellished, gowns, Charlize Theron took a daring risk to wear all black on the red carped. I think more people will be taking this risk after this smashing mermaid and mesh success! The silhouette is perfect for Charlize's figure, and the mesh adds a bit of a twist to this otherwise simple gown.
Kate Hudson in Versace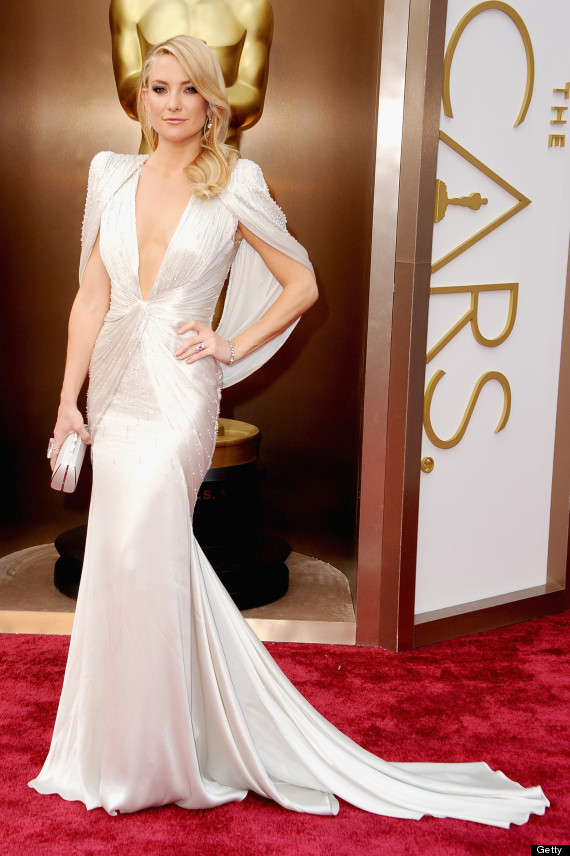 Since when was Kate Hudson so fabulous? It's in Versace's DNA to be sexy, and this dress is definitely no exception. This caped masterpiece looked 100% gorgeous on Kate and her signature smokey eye and platinum blonde hair were the perfect finishing touches to this already amazing look.
Sandra Bullock in Alexander McQueen
Sandra Bullock is not known for her ravishing red-carpet garb. However, she could not have picked a more beautiful and flattering gown for last night's Academy Awards. The royal blue looks amazing against her skin and hair, and this dress hugs and puffs in precisely the right places. The gathers on her left add another dimension to this already stunning gown, and her elegant makeup and hair let the dress take center stage.
Angelina Jolie in Elie Saab Couture
Elie Saab can never fail at making a woman look beautiful. Angelina Jolie never fails at being a beautiful woman. Together, this combination is flawless. There's not much more I have to say about this. Other than my sister wants me to tell you that she's an Elie Saab fanatic (she is) and she doesn't even watch runways.
Jennifer Lawrence in Dior
I think Jennifer Lawrence (oh, and can we PLEASE stop calling her J.Law??) is amazing. She's funny, sarcastic, ironic, and a kick-ass actress. Her partnership with Dior has landed her a permanent spot on the best dressed list and gives her an iconic, classic, style. However, this dress slightly dissapointed me. While I still love it, it doesn't even compare to
last year's
dress. Her spot on the best dressed list doesn't seem to be going anywhere yet, but if her dress decisions continue to go downhill it may be jeopardized.
Naomi Watts in Calvin Klein
This stunning white number looks amazing on Naomi Watt's beautifully tall and skinny figure. The cap sleeves and beaded embroidery makes this dress stand out, but it's the statement necklace that really makes the look. Among the crazy colored and sequined and embroidered dresses always present at the Oscars, this dress made me sigh of relief.
Calista Flockhart in Andrew Gn
In a dress strikingly similar to Naomi Watts (who do you think looked better?) Calista Flockhard looked stunning in her winter white gown, complete with lace embellishments. I love her understated makeup and hair look, with a "thrown together" bun and little to no makeup. I may be a little bit biased because Ally McBeal was (and is) one of my favorite shows of all time. I mean, come on. Calista Flockhart, Lucy Liu, Portia DeRossi, Jane Krakowski, Peter MacNicol, and Courtney Thorne-Smith are all so amazing I can't even. Watch it. Now. On Netflix. That's a demand.
Kerry Washington in Jason Wu
If anyone knows how to dress a baby bump, it's Kerry Washington. As we saw earlier this year at the
Golden Globes
and she showed us again last night, Ms. Olivia Pope shows us that when you are pregnant, you can still look better than everyone around you. The minimal accessories and bold lip just make this look even more amazing.
Jennifer Garner in Oscar de la Renta
I know this dress has mixed reviews, but I love the throwback to the twentie's flapper era and the minimal elegance. The fringe is not over the top, and this gown makes Jennifer Garner look just as long and lean and beautiful as she is. *Sigh.* Isn't it nice when stars pick dresses that are actually flattering?
If you have any thoughts on who you liked, didn't like, or who I left off the list please comment below!
Thanks for reading!
xoxoxo
Audrey